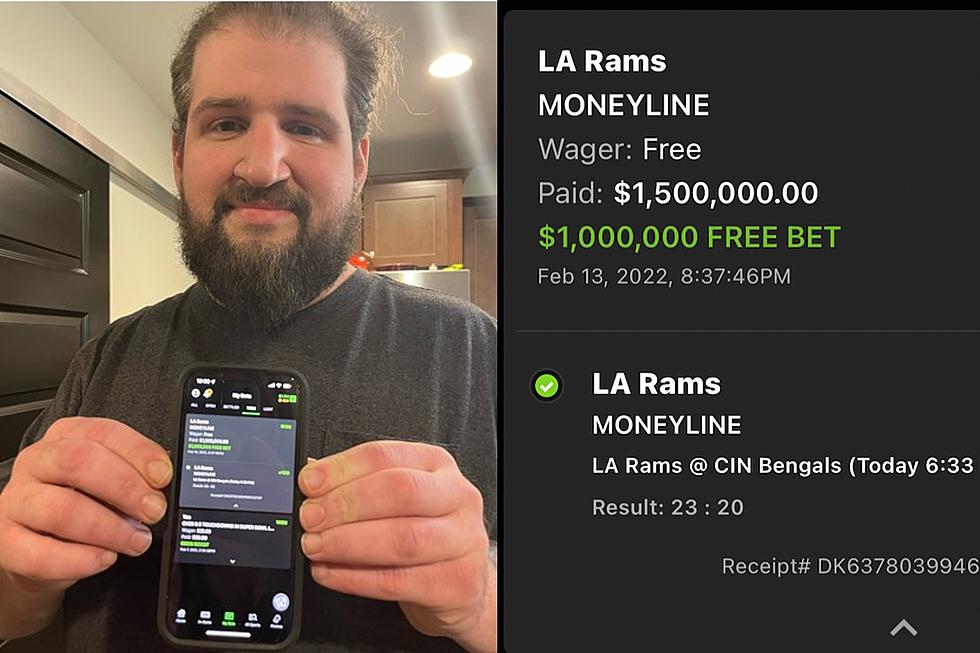 Michigan Man Wins a Cool $1.5 Million With Online Super Bowl Bet
DraftKings via Twitter
Detroit Lions fans all across Michigan were ecstatic that they got to see Matthew Stafford lead the Los Angeles Rams to s Super Bowl victory on Sunday. But for one football fan from the Mitten, that victory meant a huge payday thanks to an online betting app:  $1.5 million dollars.
$1.5 Million on a Free Bet
It was a sweet victory for the Detroit Lions' former quarterback, but an even sweeter victory for this man who placed a bet online.
SEE ALSO:  Northern Michigan Sheriff Asks People to Stop Doing Stupid Stuff
The lucky player took advantage of a free bet opportunity that was offered by the online betting app Draft Kings Sportsbook. Five random players were given the opportunity to bet up to $1 million on a free play.
But this man turned a $1 million win into $1.5 million.
Betting against the odds, the man waited until the LA Rams were down to place a live bet and cashed in for an even bigger payday.
 Who Won $1.5 Million on Sunday?
All we know at this point is the man's name is Kyle. The Twitter account for Bleecher Report Betting says he's from the great state of Michigan.
Draft Kings Sportsbook gave kudos to the player on its official Twitter account, saying "Major bag alert - Congrats to this winner who cashed in big on our Million Dollar Free Bet!"
Keep reading to see pics from inside the luxurious home Matthew Stafford owned while he lived in Detroit.
Inside Matthew Stafford's Home
Flint + Saginaw's Most-Popular TV Anchors - Where Are They Now?
A lot of highly talented people have sat behind the anchor desks at the area's TV stations.
We're taking a look at some of the area's most popular news, weather, and sports anchors who have visited our homes electronically and then moved on.
$5M Home with Secret Harry Potter Bedroom is Every Kids Dream
This home in Florida is truly beautiful. With its grand 25 foot entry with Crystal Chandeliers, floating double staircase with glass railings, this 8 bedroom, and 10 bathroom home is spectacular, to say the least. Still....that's not even close to being the "wow" factor of this 8.986 square foot home. Believe it or not, what makes this home so amazing is the kid's bedrooms. Not just any bedrooms, but themed bedrooms that are masterpieces in themselves.Specifically the Harry Potter-themed bedroom. Wizards and muggles will love the Harry Potter-themed room that you enter through a rotating brick wall to a train station. Then on platform 9 ¾, you will find a life-sized Hogwarts Express train with incredible sleeping quarters complete with a life-size Harry Potter, Dobby, Dragon, and Whomping Willow. For the little princess in your life, there is also a Beauty & The Beast-themed room with a Princess Belle's Luxurious bedroom. And we can't forget the massive Marvel-inspired game room. Of course, the home is located just a few miles from Disney and Universal Studios, situated on a Jack Nicklaus golf course in Reunion, Florida. This home is definitely something you need to see! Take a Look!