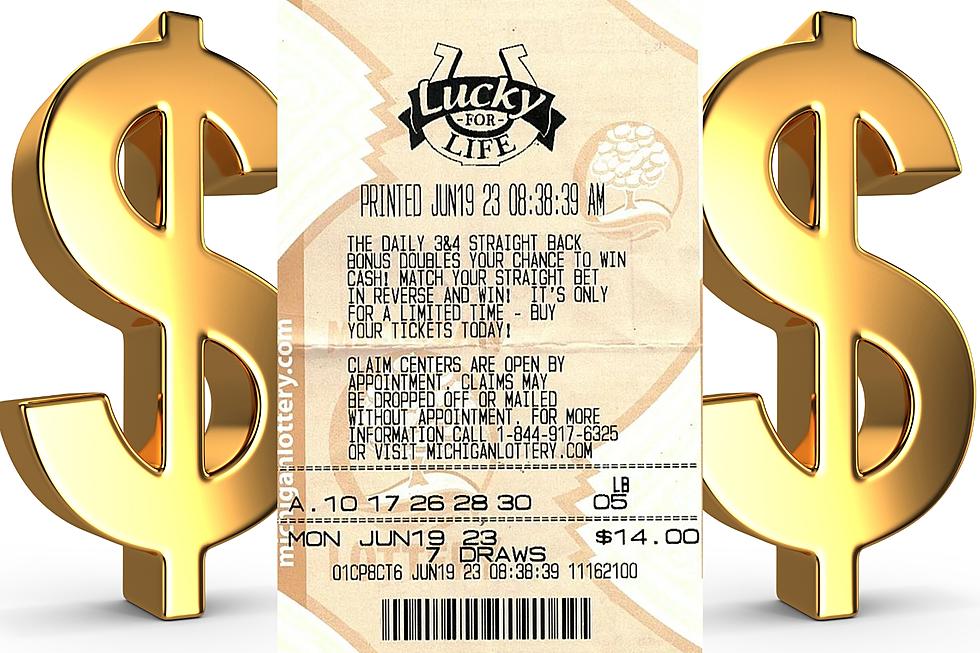 Michigan Man Wins $25K a Year for Life Playing His 'Special Set of Numbers'
Michigan Lottery, Canva
If you've ever wondered if selecting the same numbers every time you play or letting the lottery choose random numbers is a better strategy, this may give you some insight.
SEE ALSO:  Pistons Player Says Selling This 62-Room Detroit House Was a Mistake
A Kent County man hit the jackpot, winning $25,000 per year for life playing the Michigan Lottery's 'Lucky for Life' game. And yes, the man says he has a special set of numbers that he uses every time.
Consistency Pays Off
Steven Frederick of Belmont matched five white balls in the June 20 Lucky for Life drawing to win the game's top prize.
"I have been playing Lucky For Life for several years and I always play the same numbers," Frederick said. "I checked the winning numbers online the morning after the drawing, and when I saw I'd won $25,000 a year for life, I shouted in excitement: 'It's about time!'"
The 67-year-old says his wife was as excited as he was when she found out the news.
"When I showed my wife how much we'd won, she also started hollering with excitement. I have been playing these numbers for years, and I am thrilled they finally paid off!"

 
One Giant Lump Sum
Frederick chose to receive his prize as one lump sum payment of $390,000, rather than the yearly $25,000 annuity.
He says he and his wife plan to use their winnings to buy a new home.
So as it turns out, at least for this player, playing the same numbers consistently pays off.
Five Michiganians Whose Lives Were Ruined After Winning Big Lottery Jackpots
We all think winning the lottery would solve all of our problems. But you know what they say: "Be careful what you wish for."
Take a look at these five Michigan residents who won life-changing money from the Michigan Lottery. Unfortunately, all of their lives took a drastic turn for the worse after their wins.
House of 'Stone' is Just 'A Stone's Throw' From Downtown Fenton
When telling friends how to find your house, you wouldn't have to give your address. Just say, "Look for the house made out of stone, right outside of downtown Fenton."
Like the sign says, it's just 'A stone's throw' away.
Michigan Home Features an Indoor Lagoon + More
This beautiful home in Oakland Township is spacious and features an indoor lagoon. The asking price is a mere $2.75 million.