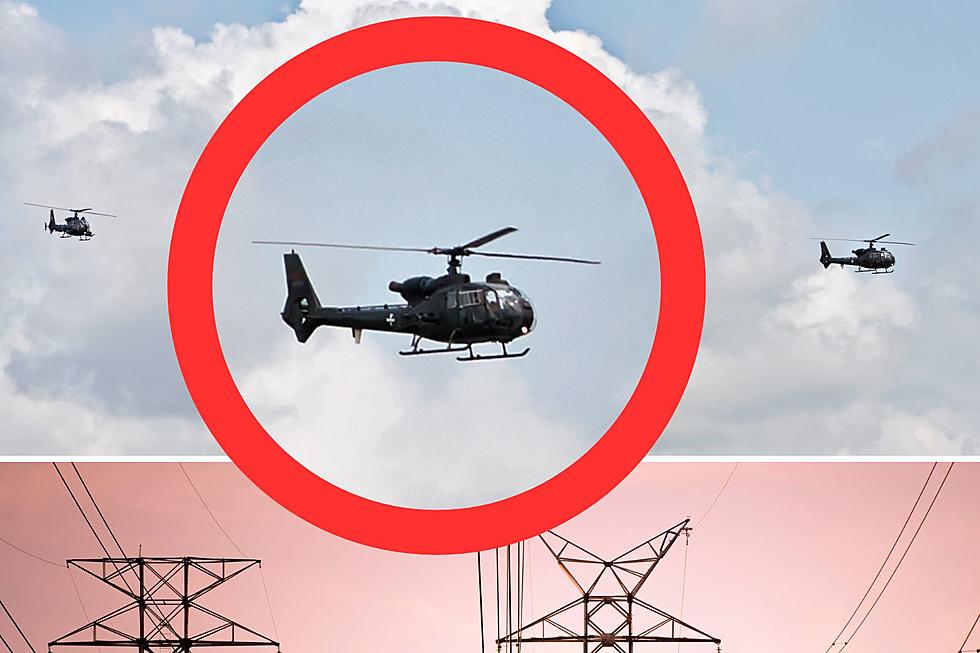 Mid-Michigan is Obsessed with Low-Flying Helicopters and Now We'll See More
Credit: Canva
How many times have you been reading through the Grand Blanc, Flint or Saginaw City Facebook Groups to have someone ask:
What was that loud boom?
Why is there a helicopter in the air?
Half the time it's nothing crazy. Now, you will be seeing more helicopters around Mid-Michigan for a bit.
See Also: Michiganders are wondering what these cylinder-shaped things are doing near water?
Why are helicopters flying so low?
Sometimes a Michigan State Police chopper is looking for someone, of course. Or a medical helicopter is making a life-saving flight.
But the reason you'll be seeing a new, curious helicopter behavior is for non-crime or health related reasons.
This time, it's for aerial inspections of high-voltage power lines, according to ABC12-TV.
High Voltage Power Line Maintenance
A company named, ITC, manages thousands of miles of transmission lines for electricity throughout Mid-Michigan. They're responsible for lines throughout the Midwest and plains, too.
Earlier this year they used helicopters to inspect lines. This fall they'll be doing it again.
Schedule for ITC Helicopter Power Line Inspections
ITC Michigan says it serves a population of 4.9 million people throughout the lower peninsula of Michigan.
Look for these flights over the next month in the following counties according to WJRT-TV:
September 11-14 in the counties of Arenac, Bay, Clare, Gladwin, Iosco, Midland, Ogemaw, Oscoda, Roscommon
Gratiot, Isabella September 18-20
Lapeer, Midland, Tuscola, Genesee, Huron, Sanilac, Shiawassee October 2-6.
Flight inspection will happen during these times, as weather allows.
So, when someone paranoid asks what's with the low-flying helicopters, you can tell them it's not anything nefarious.
Michigan Lakes With Weird or Creepy Names
Lakes Around Michigan with Names that Sound Strange, Creepy or Like a Horror Movie
Looking Back at the Last Days of Beloved Playland in Flint, MI
Playland originally started in Flint off Pasadena. Then, in the early 1980s moved toward Grand Blanc at 5290 Dort Hwy in Flint right behind Grand Blanc Township Offices. It was closed for good in 2018.
The 'Floating' House on Lake Fenton
This 4,700-square-foot home is surrounded by wetlands.
And although this home has a lot to offer, we're particularly impressed with the main bathroom. A standard toilet side by side with a bidet is a win, any day of the week.