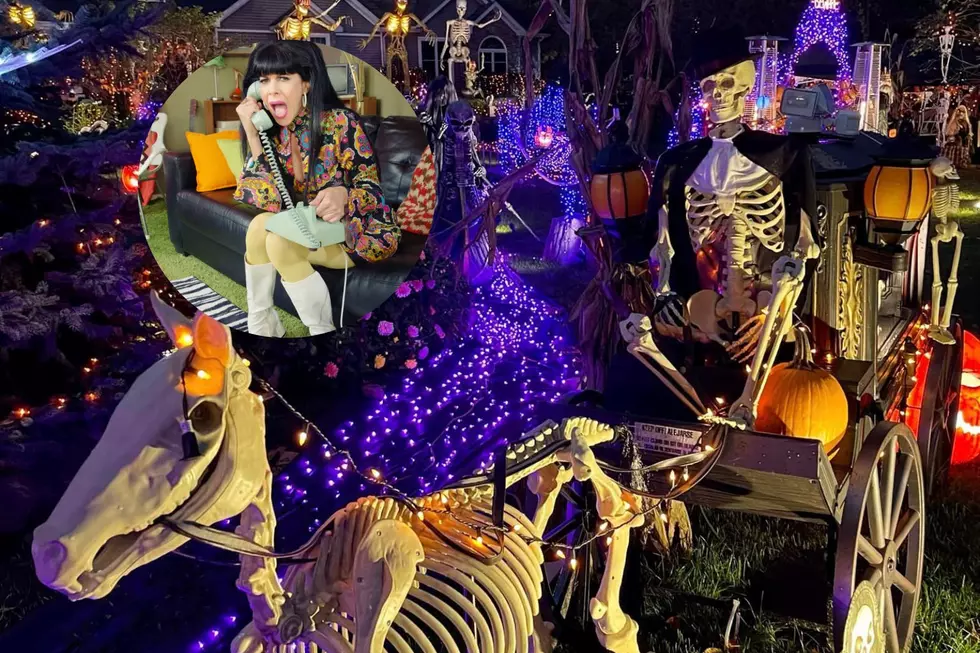 Halloween 'Karen' Shuts Down Popular Michigan Holiday Display Claiming Blight
Photo: Cheryl Underwood Facebook
The Grinch is already wreaking havoc in Michigan and it isn't even Christmas yet.
A popular private holiday display in Haslett, Michigan will sit idle this year due to complaints by a woman claiming the decorations are a blight. The mastermind behind the display on Damon Street in Williamstown Township, Cheryl Underwood, took to social media to let the public know her property will be dark this Halloween season due to a Cease & Desist order.
Underwood has been decking out her front yard not only for Halloween but Christmas since the pandemic as a way to make people happy during the holidays. Her elaborate decorations have drawn hundreds of cars each night to check out the displays that run until 9 pm, but this year will be different.
Underwood has gone as far as to post a sign in her yard explaining why there will be no holiday cheer on Damon Street this year and isn't being shy about calling out the Halloween "Karen" bringing it all to an end.
According to Underwood, a neighbor's complaints of the display being blight led to Williamstown Township Supervisor, Wanda Bloomquist issuing an order to keep the decorations packed away this year. Bloomquist commented that it is because the display was attracting too many cars. She also noted concern over emergency vehicles getting down the street if needed. Underwood posted to her Facebook that that wasn't the case saying,
"Wanda Bloomquist says it is a traffic hazard. The truth is….the police came and said there was no problem…emergency vehicles could pass just fine. Plus, we are at the dead end."
According to WILX, this is the first letter sent to Underwood regarding the displays, and Underwood could still do a much more scaled-down version of decoration in her yard if she chooses, but once you go big, it's hard to go back and people really loved her displays.
So how are others in the community reacting to the news? Most seem to be team Underwood with words of support flooding her Facebook and other social media outlets. The community is really missing it!
"People young and old were enjoying it. And they have been blowing up my Facebook when I notified everyone we weren't going to be able to do it this year," said Underwood.
In the meantime, Underwood continues to share pictures of the past years in hopes something changes in time to get her "CHRISTmas" display up and ready to make visitors smile.
10 Interesting Facts About the Movie 'Halloween'
We are smack dab in the middle of the season of Michael Myers. Of course, there are a gazillion movies that get you in that Halloween mood, but let's face it none are more synonymous with the season than the movie that bares the name. With the latest installment of the franchise, Halloween Ends, about to slash its way into theaters, why not revisit how it all started?
LOOK: The top holiday toys from the year you were born
With the holiday spirit in the air, it's the perfect time to dive into the history of iconic holiday gifts. Using national toy archives and data curated by
The Strong
from 1920 to today,
Stacker
searched for products that caught hold of the public zeitgeist through novelty, innovation, kitsch, quirk, or simply great timing, and then rocketed to success.
The Top 10 Most Popular Types of Halloween Candy in America
America's favorite types of Halloween candy range from candy corn to M&Ms. Here are America's favorite kinds of Halloween candy, starting with number 10 working our way to the number one most popular type of Halloween candy.