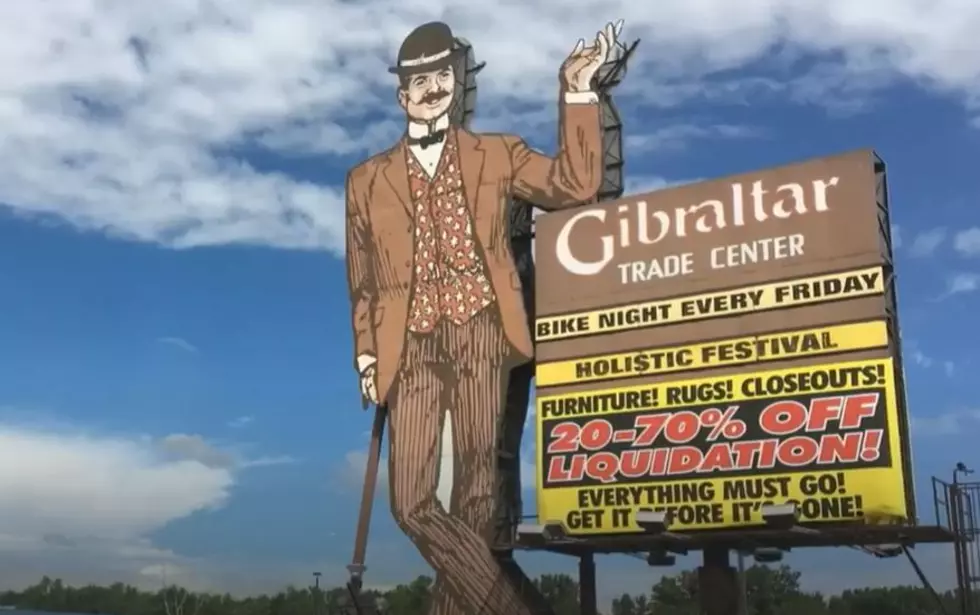 Gibraltar Trade Center in Mount Clemens Closed for Good 5 Years Ago
Moonlight Films via YouTube
The iconic Gibraltar Trade Center closed its doors for good five years ago.
As one of the nation's largest indoor flea markets, the Gibraltar Trade Center definitely left its mark on many Michiganders. Even if you never stepped foot inside, you more than likely remember the iconic sign on the side of I-94.
The Gibraltar Trade Center began as a small outdoor market on the south side of Gibraltar, Michigan on Woodruff Road. As it grew, it moved to a permanent location in Taylor, Michigan on Eureka Road in 1980. In 1990, the Mount Clemens location was open to the public, which was known as Gibraltar Trade Center North.
The Talyor, Michigan location was in operation from 1980 through 2014. It closed permanently on November 16th, 2014 and was demolished the year after. The Mount Clemens, MI location was in operation from 1900 until it permanently closed on August 27th, 2017. The building at that location has since been demolished, however, a new business has purchased the property and will bring new life to the grounds.
The new business being built on the ground of the old Mount Clemens location will bring a massive cannabis dispensary and a cannabis-based drinks operation. This new venture is a partnership between Rick "White Boy Rick" Wershe's cannabis brand, Pleasantrees, and Blake's Hard Cider. Read more about that venture here. 
Now I have to admit that my memories of going to the Gibraltar Trade Center are a bit fuzzy as I was very young. All I know for sure is that every time we went, I would beg my mom to buy me a sword. Fun fact, to this day I still have never owned a sword.
Sorry, had to add this one too.
Source: Wikipedia
13 Notable People That You Did Not Know Were From Detroit, MI
Detroit, Michigan is the birthplace of thousands of notable people and many people know. Check out this list of 13 people that you may not know were born in The D.
Nine Detroit-Area Jail Reviews That Will Give You A Chuckle
Sometimes scrolling through the reviews section is so worth it. These nine reviews of Detroit-area jails did not disappoint.
Michiganders Comment on Bad MI Drivers
We asked people on social media to share some of their encounters with bad drivers in Michigan.