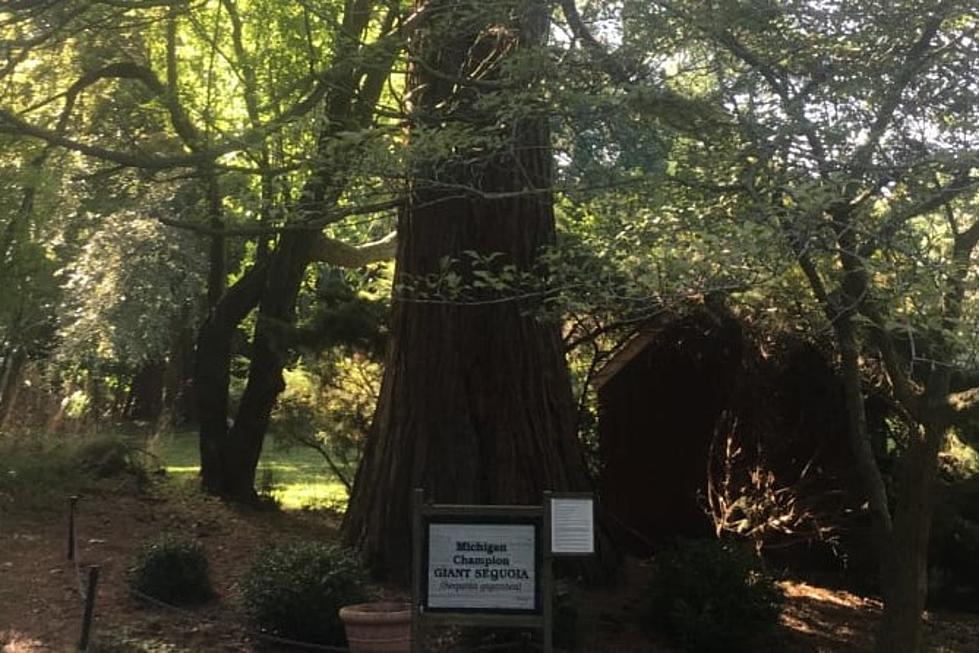 Who Knew? There's a Legendary Giant Sequoia Tree Right Here in Michigan
Photo: Lake Bluff Farms Facebook
Thinking about traveling to the western slopes of the Sierra Nevada in California to take in the majestic giant sequoias, allow us to change your plans. There's actually a giant sequoia growing right here in Michigan.
Located in Manistee, Michigan, the seemingly misplaced tree is growing and growing strong and tall. The tree is located on a cliff along Lake Michigan at the Lake Bluff Bird Sanctuary, which is owned by Michigan Audubon. According to Click On Detroit, the last measurement in 2016 found the tree standing at just over 100 feet tall.
How a Sequoia Made its Way to Michigan
So how did a tree known for being synonymous with Californian forests find its way to Michigan? The sequoia found its way to Michigan when it was planted in 1949 by Gertrude and Edward Gray. The couple brought back six sequoia seedlings from Northern California, three of which survived. Yes, three, there are two other, much smaller, sequoias growing in the Mitten state.
Not only is it pretty cool that we have such unique trees growing in Michigan, but it also has a bit of significance when it comes to the environment. According to Dr. Bill Libby, professor emeritus of forestry and genetics at the University of California-Berkeley, a giant sequoia growing in northern Michigan provides interesting data on the way of climate change.
"Any giant sequoia surviving, and particularly any thriving, at or near the then-known edge of its potential range, provides an important data point as we consider where to possibly plant this species as climate changes," Libby told Click on Detroit.
Libby has described the tree as "one of the more important sequoias on Earth because if it can handle this kind of cold and be this far north, they could be cloned around the world".
California may be where tourists head year after year to take a glimpse at the towering sequoias right now. Still, Michigan may just become a new destination for enjoying these giant beauties.
LOOK: Stunning vintage photos capture the beauty of America's national parks
Today these parks are located throughout the country in 25 states and the U.S. Virgin Islands. The land encompassing them was either purchased or donated, though much of it had been inhabited by native people for thousands of years before the founding of the United States. These areas are protected and revered as educational resources about the natural world, and as spaces for exploration.
Keep scrolling for 50 vintage photos that show the beauty of America's national parks.
25 Michigan Roadside Oddities
RANKED: Here are the most popular national parks
To determine the most popular national parks in the United States, 
Stacker
 compiled data from the 
National Park Service
 on the number of recreational visits each site had in 2020. Keep reading to discover the 50 most popular national parks in the United States, in reverse order from #50 to #1. And be sure to check with individuals parks before you visit to find out about ongoing, pandemic-related safety precautions at 
www.nps.gov/coronavirus
.