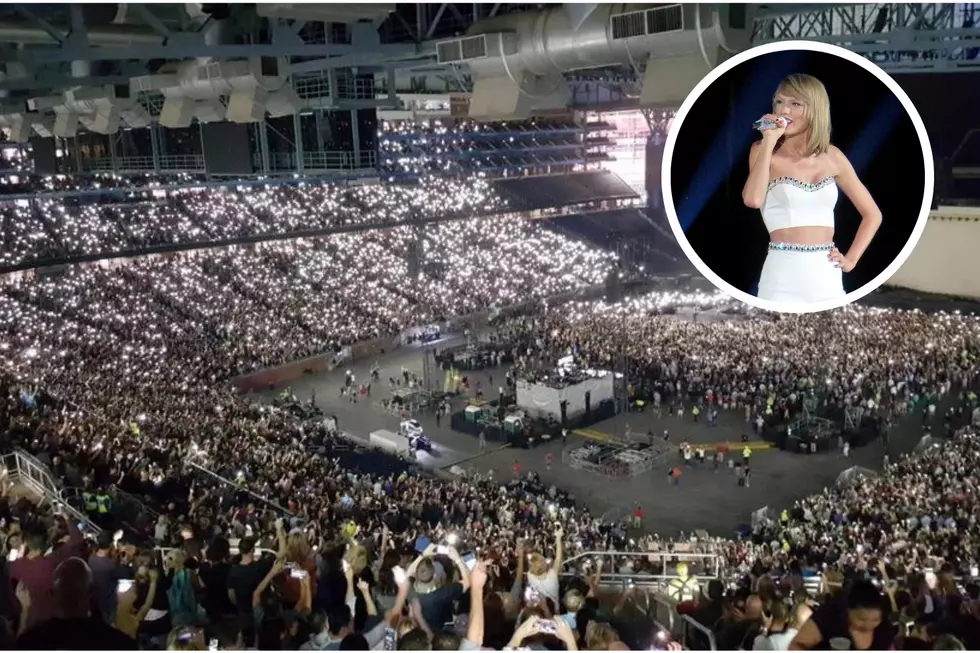 General Sale for Taylor Swift's Detroit Show Cancelled by Ticketmaster
Credit: GabboT via Wiki Commons / Eltzted via Reddit / Canva
Swifties, sound the alarm. Armageddon has arrived, and it's every man for himself. After the massive phenomenon that was the Verified Fan presale, Ticketmaster has now cancelled the general sale that had been scheduled for Friday, November 18th at 10 a.m., for Detroit and all other cities.
We all thought when they added a Friday show to Detroit after they saw unprecedented demand for the Saturday show that everything would be fine! And we were wrong.
I myself, by some stroke of luck sent down from the universe, was able to score tickets for BOTH nights of Taylor Swift's Detroit shows, on 6/9 and 6/10. But I didn't get there without a fight. Keep reading to see how I pulled it off.
What Went Wrong
What seemed like a great system, sending Verified Fan presale codes out for a special ticket presale three days before it was opened to the general public, did not go as planned for probably hundreds of thousands of fans. We have seen hundreds of TikToks from fans trying to log onto the presale for the Detroit show, and shows all around the country, getting error messages after waiting 6, 7, 10 hours in a web browser queue!
Many people are criticizing Ticketmaster for blaming that too many people showed up to the presale for the site to handle it, when it was fully under their control who would receive a code. If there were too many people, they sent out too many codes, right?
Wrong, according to a blog post from Ticketmaster, saying that 1.5 million verified fans were given presale codes, and 2 million were put on the waitlist. But when it came time for the actual presale on Tuesday, they explain that "this time the staggering number of bot attacks as well as fans who didn't have invite codes drove unprecedented traffic on our site, resulting in 3.5 billion total system requests – 4x our previous peak."
How I Scored Detroit Tickets
Their plan was simple: presale would open on Tuesday at 10 a.m. local venue time. For those of us in Detroit in Eastern Time, we were first to go. I had the foresight to sign up for a verified fan code on two of my emails, and I was lucky enough to receive presale codes for both of them, one for the Saturday Detroit show and one for the Friday one. I waited on two laptops in two different queues, one for each day.
When 10 a.m. hit I was moved into the queue on both accounts and told that 2000+ people were ahead of me, the same thing everyone else around the country was being told. After about 30 minutes of waiting, and hearing from my friend that she already got through and bought tickets, I was panicking hard. BUT FINALLY, THEY LET ME IN FOR THE SATURDAY SHOW! 30 minutes may sound like a long time, but it's one of the shortest waiting times I have seen compared to millions of angry fans online, so I got lucky.
It was time to pick, and I only had a limited time. I selected two seats and checked out as fast as I could. But the thing is, they only give you seconds to buy tickets, and you know that if you don't pick something, it will be gone forever. This is your one shot. So I spent way more money than I planned on them, and was met with a rush of excitement mixed with "what the heck have I just done?"
Detroit's Friday show queue was utter insanity. The other one took only 30 minutes so I had high hopes, but there was a point in the day where my queue was stuck at the same spot in the loading bar for over THREE HOURS. I thought it was sold out and I was done for, but when I finally got in at 3:00 PM, five hours after I'd logged on, there were still many seats available, so I bought two slightly less expensive tickets in the lower bowl! It was a great get, and I felt better about that purchase.
But many people did not have this experience. They sat in the queue for Detroit, or another city, and waited for 5, 6, 8 hours, just to be sent back to the beginning of the queue again, or selecting tickets and thinking you're home free when an error message pops up that says these are unavailable. According to the blog post, this happened to 15% of Verified Fans, which by their own admission is a lot. My TikTok feed was full of people crying or crazy laughing because they realized they waited all day for nothing, and now they can't see their favorite artist on her first tour in five years.
Ticketmaster was supposed to set aside only a portion of tickets for presale, but some venues completely sold out. Detroit is not one of those from what I know now, but if your hopes are still up, guess what?
Ticketmaster has just CANCELLED general sale due to unprecedented demand. So, if you did not register as a verified fan weeks ago, you cannot get tickets unless you use StubHub, which are currently listed at $700 each for nosebleed seats, and about $8,000 each for floor seats. That is not an exaggeration, by the way. There has never been a tour with demand like this.
For those upset about general sale being cancelled, I feel for you. But it makes sense why they had to do this. They sold over 2 million seats to Swift's show in one day, and the total venue capacity of all 51 shows on her tour is just over 3 million. So many shows sold out, like the Friday Philly show that my aunt waited 6 hours for, just to receive endless error messages when she selected tickets until they were all sold out. It was truly a bloodbath, and a nightmare for so many. But for those of us who somehow were selected and got tickets, we are scared too, because we are left with so many questions. There are still tickets available in Detroit, and other venues, so how will those be sold? There are so many questions and not a lot of answers right now as the dust settles.
How We Can Help
If you don't have Detroit tickets and are feeling down, Cars 108 may be able to help. Tomorrow morning, Friday 11/18 after 8:00 a.m., we are giving away tickets to a lucky few listeners to Swift's Saturday show at Ford Field. You can enter on our app by clicking "Taylor Swift Tickets" on the homepage. The contest closes at 8:00 AM on Friday when we draw our winners! This may be your only chance to go...
Oakland County's Most Dangerous Intersections
Driving anywhere near Detroit is the ultimate test of defensive driving in Michigan. These are the worst intersections in
Oakland County
.
Inside Historic $1.2 Million Detroit Castle
The 'royal' home, on the market for $1.2 million, is surrounded by history in the Indian Village area. Designed by renowned
architect Louis Kamper
and built in 1906. There are 7 bedrooms with 4 full and 3 half baths located in the main house which is just over 7000 square feet. The carriage house with over 1,800 square feet of living space houses an additional 3 bedrooms.
Take a look inside this architectural stunner, known as the Austin Morey house, that will have you feeling just like a Lord or Lady living like royalty.