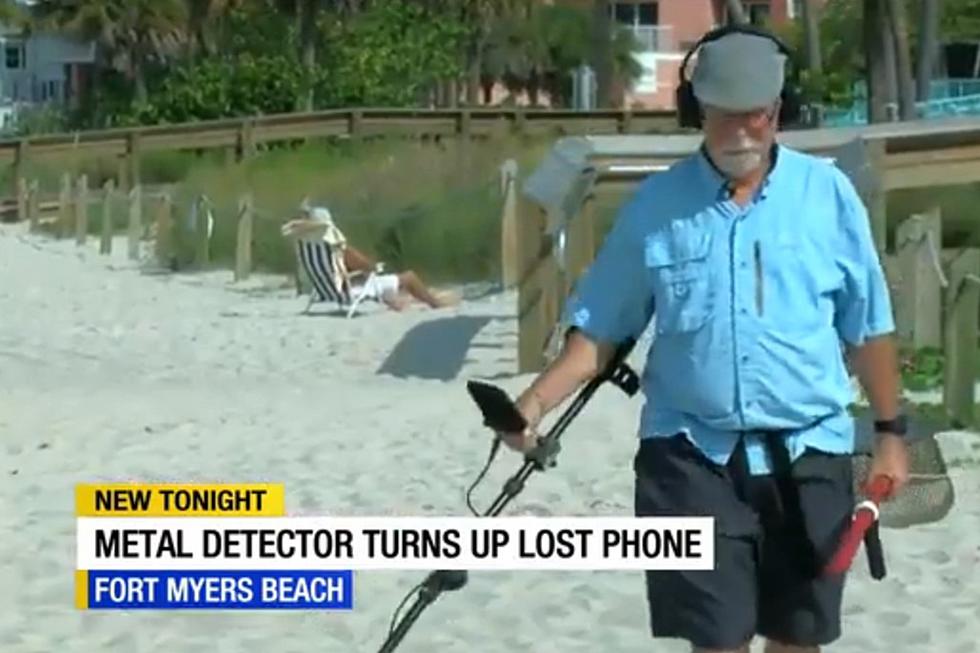 Florida Man Finds Michigan Woman's iPhone With Metal Detector on Beach [VIDEO]
NBC2 News via YouTube
Imagine how traumatic it would be to lose your cellphone. Maybe you don't have to imagine because it's happened to you. It happened to Lacy Moulton who was vacationing in Florida, and she tells the local TV station that she cried all night after it happened.
Florida man to the rescue
But along came Joe Lynch, whose hobby is combing the beaches near his Ft. Myers home with his metal detector. Lynch tells NBC-2 that he usually finds a lot of junk, so when his metal detector honed in something valuable.
"You find a lot of beer cans, pop cans the little thing on top of pop cans, that's your most common find. It's always your goal to find a nice piece of jewelry or money," said Lynch.

 
The phone wasn't dead
Lynch says the phone was under about a foot of water, so he was shocked that it was on and working.
"The phone was locked, but I was able to hit the emergency contact button on it and I found the owner's sister in Michigan."

 
The phone's owner was delighted.
Lacy was able to get her phone back before she had to return home.
"I was shocked literally! My friend was with me and we were both just screaming of happiness," Moulton said. "Right before he called me I was saying, 'I hope there's a good guy out there that does things like this and gives it back' and it was him and I'm so blessed."
Lynch says the experience made him happy as well.
"You never know what you're going to find and that's kinda the thrill."

 
This Little Shop Up North Sells Some Awesome Crap
LOOK: Stunning vintage photos capture the beauty of America's national parks
Today these parks are located throughout the country in 25 states and the U.S. Virgin Islands. The land encompassing them was either purchased or donated, though much of it had been inhabited by native people for thousands of years before the founding of the United States. These areas are protected and revered as educational resources about the natural world, and as spaces for exploration.
Keep scrolling for 50 vintage photos that show the beauty of America's national parks.