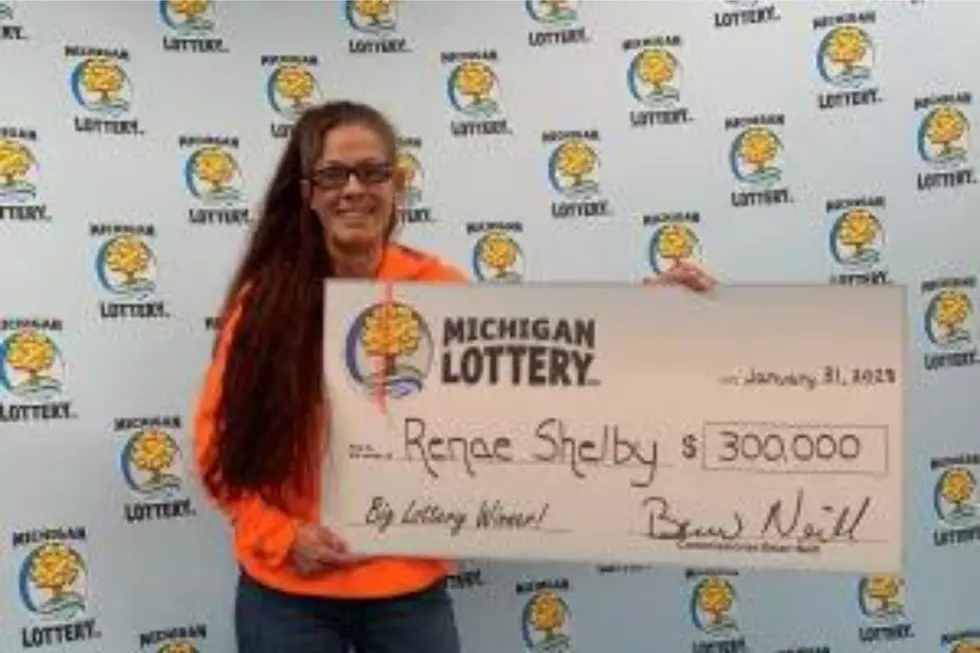 Flint Woman Has a 'Lucky Lottery Machine' That Made Her a $300K Winner
Michigan Lottery
A Flint woman says she has a 'lucky machine' from which she always buys her Michigan Lottery tickets and that strategy finally paid off.
SEE ALSO:  After February, Michigan Will No Longer Provide Additional Food Assistance to Needy Families
Loyalty Finally Pays Off
Renae Shelby won a whopping $300,000 on an Emerald Green Wild Time scratch-off ticket. She always buys her tickets at Khouris Market on Davison Road in Flint.
"I always purchase my tickets from the same self-serve machine, and I call it my 'lucky machine,'" she tells the Michigan Lottery. "I had some winning tickets, so I cashed them at the machine and used my credits towards a few Emerald Green Wild Time tickets."

 
So Excited, She Could Barely Speak
Shelby goes on to say that she was in utter disbelief when she realized she had won such a huge sum of money.
"I started scratching the tickets when I got in my car, and when I saw I'd won $300,000, I was in shock! I called my son right away and he thought he was going to have to call 911 because I felt like I couldn't breathe and could barely get my words out to tell him I'd won $300,000. It was so exciting!"
Shelby says she plans to save her winnings and notes that the jackpot has opened doors and presented her with opportunities that weren't previously available.
Keep reading to meet the Michigan Lottery Winners who wish they'd never bought a winning ticket.
Five Michiganians Whose Lives Were Ruined After Winning Big Lottery Jackpots
We all think winning the lottery would solve all of our problems. But you know what they say: "Be careful what you wish for."
Take a look at these five Michigan residents who won life-changing money from the Michigan Lottery. Unfortunately, all of their lives took a drastic turn for the worse after their wins.
Meet the Flint Area Folks Who've Competed for Real Money on TV Game Shows
Jeopardy, Wheel, Millionaire, you name it, Flint-area folks have been on it.
Over the last several decades, we've seen lots of people from our area competing for and sometimes even winning big money.
Our list includes a former Grand Blanc resident whose Jeopardy strategy is still used today and is reputed to be a maneuver that Alex Trebek hated.
And we even have one gentleman from Flint who's considered a game show expert, appearing on five different shows over the years.
Check Out 27 TV Shows That Were All Set in Michigan
Michigan is a great state surrounded by the Great Lakes - and it also makes a great setting for a TV show.
We all know that 'Home Improvement' starring Michigan's own Tim Allen is set here in Michigan, but that's just the tip of the iceberg. Or in this case, the tip of the Mitten.
Check out these 27 TV shows that have been based right here in good ol' Michigan.