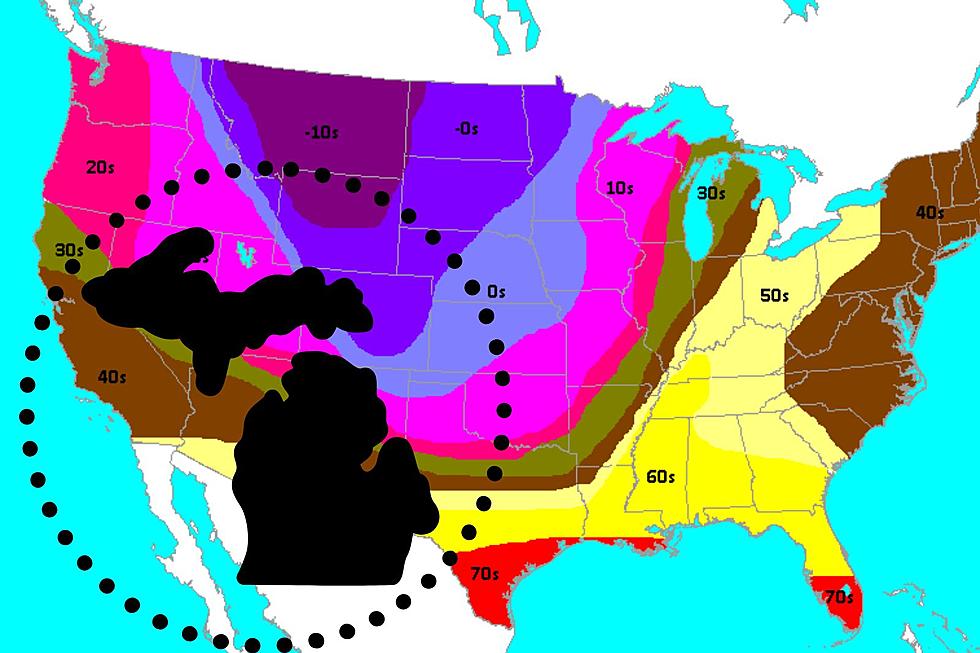 Extreme Temperature Shifts in Michigan's History: See the Craziest Changes
NWS, Canva
From the mid-80s to the low-30s. What a rollercoaster ride we're on right now, right? But going from one weather extreme to another in Michigan isn't really all that unusual.
SEE ALSO:  Michigan - From Record-Breaking Heat to Snow in Just a Few Short Days
It's Actually Normal
Temperature swings of 50 degrees or more may seem out of the ordinary to most of us (social media is filled with jokes and memes about our 'three-day summer'), but according to the National Weather Service, it's considered normal. 

Joe Ceru, a meteorologist with the NWS in Grand Rapids says going from summer-like weather to an early spring blast of winter is "climatologically normal."
Seasonal Extremes
Michigan has a history of temperature fluctuations that seemingly go from one extreme to another in just a short time.
In 2018, the Detroit Free Press analyzed 100 years of data from the National Weather Service showing that December (2017) and January (2018) posted nearly the wildest gaps between low and high temperatures in 42 years.
That winter's temperature swings, however, were eclipsed by the late fall and early winter of 1975-76. In December of 1975, Detroit posted a high temp of 65 degrees and a low of minus 5. During the following month, the highest temp recorded in the Motor City was 46, while lows reached minus 18 degrees. According to the Free Press analysis, the December-January high-low discrepancy was 134 degrees.
Day-to-Day Extremes
November 11, 1911 (11/11/11) is a day that has gone down in meteorological history. A system known as 'The Great Blue Norther' rocked parts of Wisconsin, Illinois, Indiana, and Michigan. Strong winds, severe thunderstorms, and tornadoes helped set records that have not been toppled in a century. Temperatures in parts of Michigan are said to have fallen approximately 61 to 65 in 18 hours or less.
The National Record
Aside from Michigan, other states have experienced extreme temperature shifts as well. During the start of the 20th century, accurate records were not kept like they are now, but Montana is believed to hold the US (and perhaps world) record for the greatest temperature drop in a 24-hour period.
According to the Michigan Weather Center, Browning, Montana saw a temperature drop from 44 degrees to minus 56 degrees on January 23-24 in 1916.
These Weather Memes Are Pure Michigan
These Michigan weather memes are the best of the best.
Detroit Pistons Forward Marvin Bagley's $4 Million Home
This sprawling mansion which is owned by Detroit Pistons forward Marvin Bagley III is an absolute beauty.
It's located about a half hour from where Bagley grew up, and features five bedrooms, seven glorious bathrooms, and lots of extras.
This Luxury A-Frame Even Has Its Own Instagram Detailing the Building Process
This awesome A-Frame rental in Saugatuck has all the amenities. It even has its own
Instagram page
, detailing the building process.
Be sure to check out the ladder access to the loft at the very top of the home. The kids will love it.