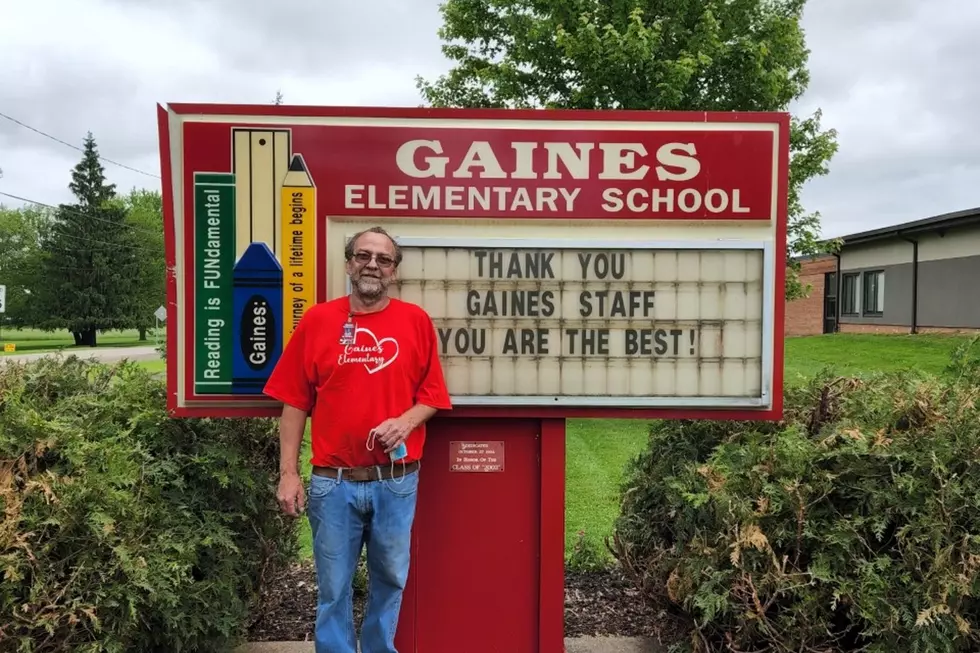 Community Rallies for Beloved Swartz Creek Custodian With Lung Cancer
N. Wildeman
Devasting. That's how Chris Mechura described the moment she found out her husband Tony had been diagnosed with lung cancer. The community of Gaines echoes that sentiment and is planning a fundraiser for the beloved Gaines Elementary custodian for this Sunday, October 2.
SEE ALSO:  96 Years Ago - The 8-Hour Workday Comes to Michigan
Tony Mechura has been with Swartz Creek Community Schools since 1985, serving as the Head Custodian for Gaines Elementary since 1988. His friendly smile, charm, and wit have had a lasting impact on generations of students and staff members for more than three decades.
The Diagnosis
Mechura discovered that he had cancer after suffering from COVID-19. His wife tells Cars 108 that when he experienced fatigue and had difficulty breathing this summer, he simply thought he was suffering from the effects of being a COVID long hauler. A doctor's visit proved otherwise.
In July, Tony was diagnosed with Adenocarcinoma of the Lung. It has metastasized to his brain and lymph nodes.
Chris Mechura tells us that doctors broke the news to her husband that without treatment he should only expect about six months. Tony has opted for radiation and chemotherapy which may increase his life expectancy to about two years.
An Outpouring of Community Support
Mrs. Mechura says she and her husband have been deeply touched by the support they've received so far. Current and former coworkers have donated money to help with medical bills and living expenses and have organized a fundraiser. It will be held this Sunday, October 2, which also happens to be Tony's 59th birthday.
A spaghetti dinner and silent auction will be held at the Gaines United Methodist Church. The cost is $10 per person or $35 per family, with the auction beginning at 3 pm, followed by dinner.
Auction items include gift certificates from Ruggero's, The Draft, A-1 Treat Barn, Buffalo Wild Wings, NCG Cinemas, Galaxy Lanes, Foutch's Pub, Spooky Trails, and more. Cars 108 has provided concert tickets to Michael Buble's Detroit show and there are various other items available as well.
Donations can also be made via PayPal.
The 10 Best School Closing Videos of All Time
When it comes to school closing announcements, a robo-call or text just won't do. These school principals and superintendents have taken it to a whole new level.
Check out our ranking of the top 10 best school closing videos of all time.
Is This Michigan House Haunted ... Or Does It Just Have Good Bones?
Look carefully - you'll find a skeleton in every picture.
Take a Look at Michigan's Minimum Wage Over the Last 50 Years
Michigan's minimum wage has obviously changed a few times over the last 50 years. See what it has been over the years here. Figures from U.S. Department of Labor.