Adam Sandler's Tribute to the Late Chris Farley Will Make You Cry
Who would've thought that 20 years after his death, a video would still make us cry?
Somebody is OBVIOUSLY cutting onions in here.
Comedic legend Chris Farley passed away twenty-one years ago yesterday, December 18th. And, toward the end of Adam Sandler's new Netflix comedy special 100% Fresh, he performs a moving tribute to his late friend.
And it's got EVERYTHING...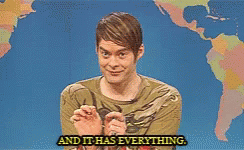 ...literally. Farley's best SNL sketches, including the Chippendales, Gap Girls, the Chicago Bears super fans, the lunch lady and the "van down by the river."
Sandler also reminisces about hanging out with Chris at Tim Meadows' wedding...and going to his funeral. And now, we're all vaklempt, too.
His tour is coming to the Fox Theatre in Detroit on February 8th, 2019. Tickets are available HERE.