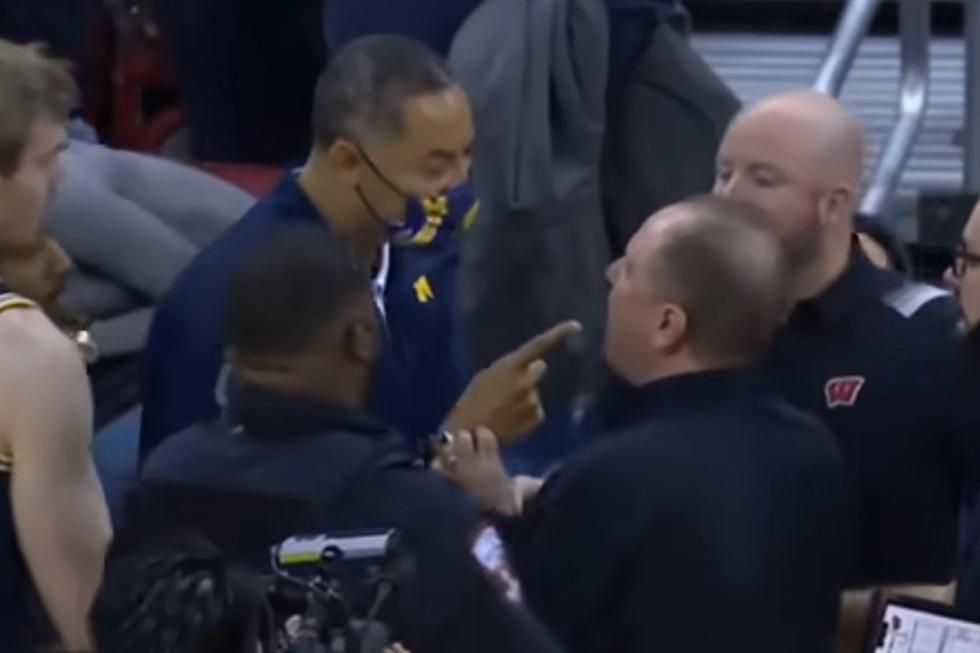 Suspended But Not Fired – University of Michigan Basketball Coach Juwan Howard Out Five Games
All Sports Culture via YouTube
In the court of public opinion, Juwan Howard was immediately fired and banished to the depths of Hell for his postgame altercation with Wisconsin Assistant Coach Joe Krabbenhoft on Sunday. But in reality, the University of Michigan basketball coach will keep his job after taking a five-game suspension and paying a $40,000 fine.
SEE ALSO:  U of M Prof. Ousted After Showing Film With Actor in Blackface
The Big Ten, in collaboration with Michigan and Wisconsin, made the announcement after deciding Howard's fate on Monday.
Video of the altercation and the aftermath can be seen below.
Howard Apologizes
In a public statement published by the Detroit News, Juwan Howard apologized for instigating the skirmish, saying his actions were unacceptable.
"After taking time to reflect on all that happened, I realize how unacceptable both my actions and words were, and how they affected so many. I am truly sorry," Howard said in a statement. "I am offering my sincerest apology to my players and their families, my staff, my family and the Michigan fans around the world. I would like to personally apologize to Wisconsin's assistant coach Joe Krabbenhoft and his family, too."
Howard went on to acknowledge that he failed to set a good example for the players on the team.
"Lastly, I speak a lot about being a Michigan man and representing the University of Michigan with class and pride, I did not do that, nor did I set the right example in the right way for my student-athletes. I will learn from my mistake and this mistake will never happen again."
Impact of the Suspension
According to the Detroit News, Howard will be banned from attending team activities such as practices and film sessions during the suspension.
It is unclear whether Howard will be paid during his suspension.
21 Notable Michigan State University Alumni You May Recognize
Check out 21 notable alumni from Michigan State University throughout the years. So much great talent has walked through the doors.
The 15 Most-Exciting Games in the Michigan - Michigan State Rivalry
Michigan and Michigan State have been battling it out on the gridiron since 1898. You can imagine that playing each other for that long will lead to a pretty heated rivalry. The Michigan / Michigan State rivalry is one of the best in all of sports. There have been many moments that helped to build that rivalry over the years. Check out 15 of the most important games over the decades of the Backyard Brawl.
Michigan Glass House on the Market for $4.1M: Look Inside
Talk about unique! This home in New Buffalo, Michigan sits on a secluded lot overlooking Lake Michigan with a view you just can't get enough of. Open spaces, and literally walls of windows, the home is all about taking in the area surrounding you. Make it your own and enjoy a list of impressive amenities including; glass room wine cellar. bathrooms with heated floors, a steam shower, a yoga platform, large outside deck and the large patio area inground pool, home theater, gym, walking gardens and more. Take a look inside this 5,498 square foot glass home.