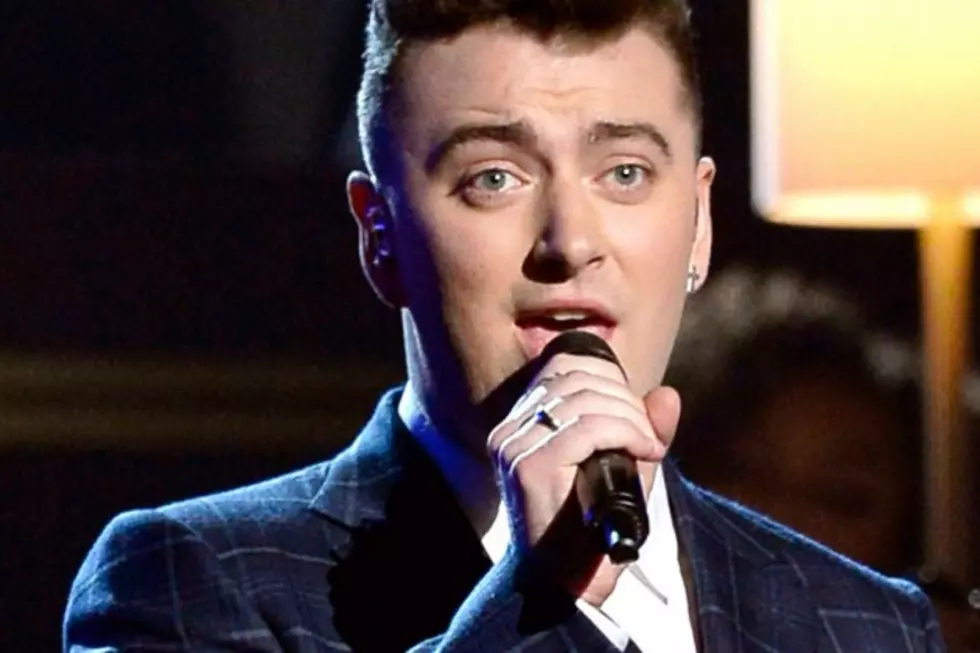 Is Sam Smith Singing The New 'Bond' Theme Song?
Kevork Djansezian, Getty Images
After Skyfall's devastating conclusion, James Bond might be without his trusted MI6 confidante, M, but according to VH1, he's got a new recruit to help mitigate the loss.
Sam Smith, who had to cancel a handful of recent tour dates to undergo vocal cord surgery, might be next in line to sing a James Bond theme song for the upcoming Spectre. The Gossip Table's Rob Shuter noted yesterday (June 9) that the Grammy-winner is more than ready to get the project off the ground.
Smith has yet to weigh in, but the "Stay With Me" singer did post a video to Twitter yesterday in which he confirmed that he can, in fact, speak after spending three weeks in recovery, and is looking forward to getting back out on the road. "Finally, I have some good news, and that is that I'm gonna be starting all my shows up from the third of July...I'm gonna try my absolute best to sing my heart out every night," he said.
Since Dr. No hit theaters in 1962, Shirley Bassey, Nancy Sinatra and Carly Simon have all sung opening Bond tunes, while Madonna, Alicia Keys and Chris Cornell have handled some of the series' most recent title tracks. And, of course, Adele earned the 2013 Oscar for Best Original Song thanks to her "Skyfall" recording.
Spectre will hit theaters in November.
What do you think—is Sam Smith the perfect choice for the Spectre theme song, or will he miss the mark?