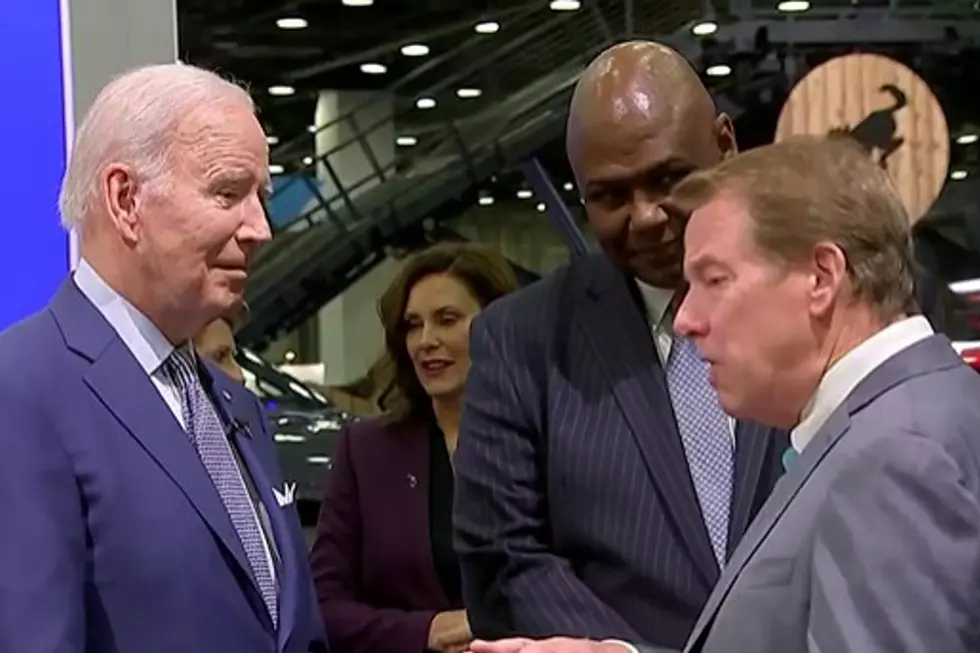 President Joe Biden Compares a Mustang to a Corvette at Detroit Auto Show
WJBK-TV
President Joe Biden got an opportunity to visit the Detroit Auto Show today (9/14) and made a comparison between a new Ford Mustang and General Motors' iconic sports car, the Chevrolet Corvette.
"Zero to 60 in three seconds," the President proclaims as he and Ford Chairman Bill Ford marvel at a new electric Ford Mustang. "My Corvette is 5.2 seconds."
Ford sheepishly corrected the President, saying "three and a half seconds, but who's counting?"
"Does it have a launch button?" Biden quips in the video From Fox 2 below.
Ford went on to share with the President his memory of the day Ford engineers first approached him about building an electric Mustang. He told Mr. Biden that he was extremely skeptical about the idea of an electric Mustang.
"The guys came to me and said 'we have a new Mustang' and I said 'well tell me about it,'" he told Biden.
"It's an electric -- I said 'Stop right there. We can't have an electric Mustang,'" And they said 'well it also kind of looks like an SUV.' I said 'no chance we're going to call this thing a Mustang. No chance.' And they said 'Why?'"
"I said 'A Mustang has to have a V8, has to have a stick shift, has to sound good.' And the teams said 'Well, would you at least drive a prototype?' and I said 'Sure, but we're not calling it a Mustang.'"
"I got in the prototype and I never had so much fun and I came back in on Monday and said 'Okay guys, we can call it a Mustang.'"
The North American International Auto Show runs through the weekend at Huntington Place, formerly Cobo Arena in Detroit.
Historic Mott Park Carriage House Airbnb
This is a hidden gem! This Airbnb was part of the Top 20 Michigan Airbnbs according to
Jones Around the World
. Fancy its not, but cozy and unique it is. Located in the center of the historic Mott Park Neighborhood is the iconic home designed by Norbert Dougherty, who was hired by General Motors to develop the neighborhood, for his family to live in. The Airbnb is part of the original 1926 garage loft and perfect for a little staycation or a weekend taking in the cultural area and downtown Flint. The best part, rates start at just $54 per night.
These Michigan Restaurants Have All Sadly Closed Since Appearing on National TV
You'd think an appearance on a national TV show like Diners, Drive-Ins, and Dives or Restaurant: Impossible would guarantee success for a restaurant.
That hasn't been the case for these six restaurants, all of which have closed after being featured on national television.
This House in Saginaw Looks Just Like the One in 'Home Alone'
You'd swear this home on Michigan Avenue in Saginaw was the home used to film the movie 'Home Alone.'
It's not, of course, because that home is actually in the suburbs of Chicago.
According to the
real estate listing
, this Michigan home was built about 74 years before the movie debuted.