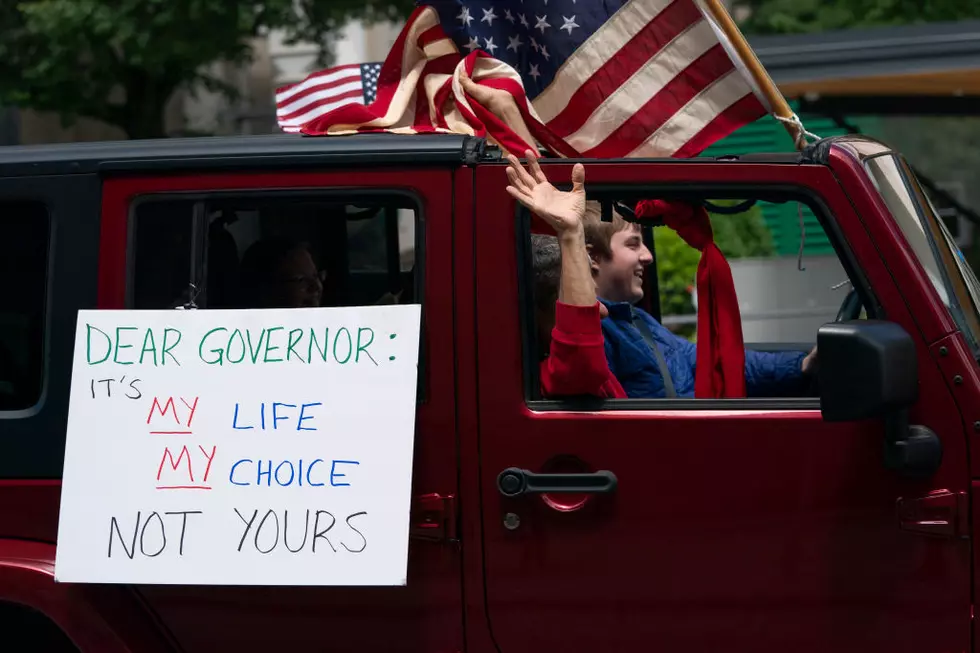 OPINION: The Pandemic in Michigan Is Being Weaponized by Politics
Getty Images
If you've felt it in your gut, too, you're right.
For the life of me, I just can NOT understand why people are pushing back against the coronavirus precautions in Michigan. Nobody wants to see people out of work, businesses close, etc. Silly me - maybe I'm just naive but I thought that this was a public health crisis?
Nope. Michigan and Michiganders are being weaponized for politics during this pandemic.
I have asthma and both of my parents are sick, so we've all taken precautions to make sure that we stay home - myself in Michigan and my parents in Wisconsin. Suddenly, people were gathering in Lansing, without masks but with guns, saying that the stay-at-home order was "unconstitutional."
I don't get it - other states and countries are doing the same thing yet, all of a sudden, there are protests in Michigan. It just didn't (and still doesn't) make sense to me.
And then, I started to see the political ads on YouTube - Joe Biden supported China, where the virus allegedly came from. Donald Trump said that it was a hoax. We're even running ads on our radio station saying that, while the Democrats were concerned with impeachment, Trump was concerned with the coronavirus outbreak.
*Side note: we are legally obligated to run political advertisements, whether we, as a station, agree with them or not*
Almost like clockwork, one of my friends (who is originally from Wisconsin and now lives in Arkansas) posted the following question to his Facebook page:
"Can someone explain to me what Wisconsin's safer at home order is or provide links? Not asking for opinions, just info. I'm curious because Arkansas doesn't have the same order, yet seems to have done the same thing Wisconsin has, but with no one really upset about it."
I asked him to elaborate. He said that Arkansas, who has a Republican governor, gave out stay-at-home guidance but didn't call it an order.
He's been working from home since mid-March. "So it's like it happened without calling it a safer at home order. Schools closed. Restaurants only delivery and take out. Lots of people wearing masks."
And, finally, I saw it yesterday on the news: an analyst said that Michigan and other swing states are being "weaponized" for the election. Groups on both sides are using the pandemic as a hot-button issue to rile people up and sway their votes.
The same thing is happening in my home state of Wisconsin - their Democratic governor issued a stay-at-home order and the protests started. Just yesterday, the Republican-controlled Supreme Court struck down the order.
I truly believe that, at the start of these protests, most peoples' intentions were good. Now, they've brought swastikas and confederate flags and big guns and it's turned into something completely different.
As if we're not going through enough as human beings right now, politicians have the audacity to use a public health crisis as a partisan weapon. It's disgusting, and I hope that we can all see right through it.
Enter your number to get our free mobile app
11 Franklin Delano Roosevelt Quotes That Will Give You Hope