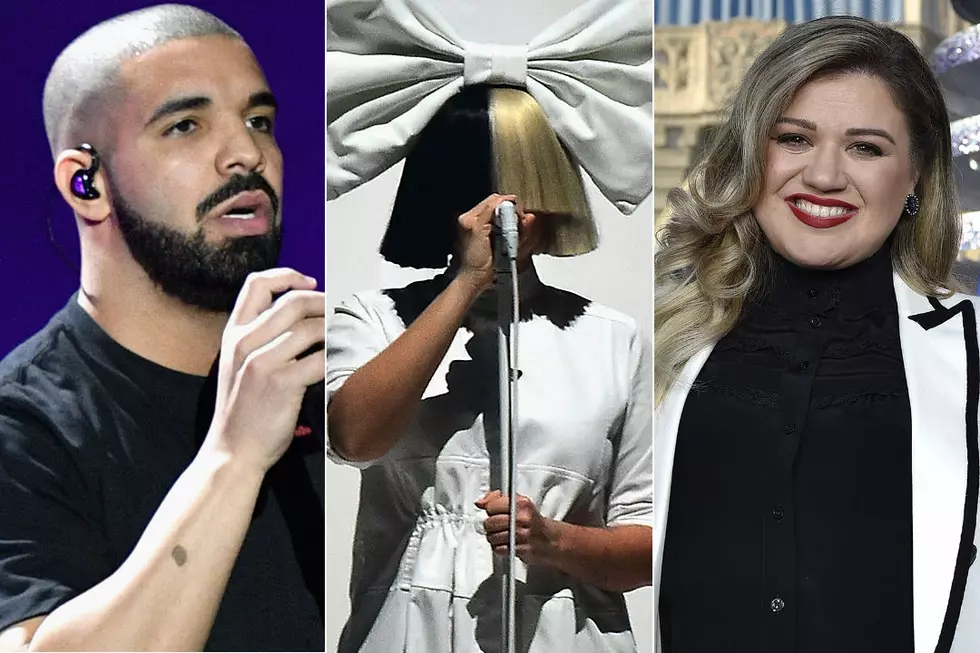 2017 Grammy Awards Nominees: Pop Snubs + Surprises
Theo Wargo/Mike Windle, Getty Images
The 2017 Grammy Award nominations have been officially announced and, predictably, it's Beyonce and Lemonade vs. Adele and 25 for most of the show's top honors. Less predictable, however, were snubs and surprise nods very few saw coming.
Between big-time dismissals of Sia and Drake (for the most part) and unexpected love for Kelly Clarkson and Mike Posner, the list of Grammys nominees reads, at times, like a small-scale industry thriller.
Check out some head-turning Grammys snubs and surprises below:
Snub: Sia (Mostly) Shut Out
When it comes to The Grammys, some acts earn nods for merit while others ride the wave of commercial success (cough, The Chainsmokers). With Sia's This Is Acting and "Cheap Thrills" (a massive No. 1 hit) academy voters got both, but somehow, it wasn't enough, and Sia was left behind (save for a couple of more niche pop nominations).
Surprise: Kelly's "Piece" Lives On
Though Clarkson's Piece by Piece dropped in 2015, a stunning American Idol performance of the LP's eponymous track in February prompted a 2016 rerelease of the single, and earned Kel an unlikely spot in the Best Pop Vocal Performance category. She was nominated for "Heartbeat Song" from the same album at the 2016 show.
Snub: Drake (Also Mostly) Shut Out
You couldn't cross the street this summer without hearing "One Dance" blasting from someone's speaker system, but Drake was nevertheless left out of Record of the Year and Song of the Year contention. His Views, however, did get him an Album of the Year nomination.
Surprise: Twenty One Pilots Make a Strong Showing
With "Heathens" and "Stressed Out" earning routine radio play in 2016, the Ohio-native rockers found themselves beside the likes of Beyonce and Adele in the huge Record of the Year category with the latter track. It marked their very first nomination as a group, and they got a handful of others in smaller categories.
A hit album, raw talent and critically acclaimed singles "Here" and "Wild Things" somehow didn't earn the 20-year-old Cara a spot on the Best New Artist list. The lesser known Maren Morris and less talented Chainsmokers both managed spots.
Surprise: Mike Posner Earns Huge First Nod
Posner managed a comeback earworm with "I Took a Pill in Ibiza" and catapulted himself into Song of the Year contention alongside the huge "Hello" and "Formation." More impressively, the nomination was his very first.
Snub: Justin Timberlake's "Can't Stop the Feeling" Stopped
It was joy wrapped in optimism served with piping hot euphoria, but "Cant Stop the Feeling" couldn't swing consequent Grammys love, and the Trolls tune is only up for Best Song Written for Visual Media.
Surprise: Anderson .Paak Gets New Artist Nod, Several Albums Later
With two albums under his belt as Breezy Lovejoy and another two since officially assuming the role of Anderson .Paak, the California native would hardly qualify as an industry newbie. Still, 2016's Malibu was certainly his popular breakout.
Snub: Justin Bieber's "Sorry" Unapologetically Denied
It's tough to pity Bieber — his Purpose was nominated for Album of the Year and "Love Yourself" earned a Song of the Year nod. Still, there's no denying "Sorry" was one of the past year's most massive hits — plus, it was included on The New York Times' Best Songs of 2015.
PopCrush Goes Backstage at the 2016 Grammys: Alessia Cara, DNCE + More