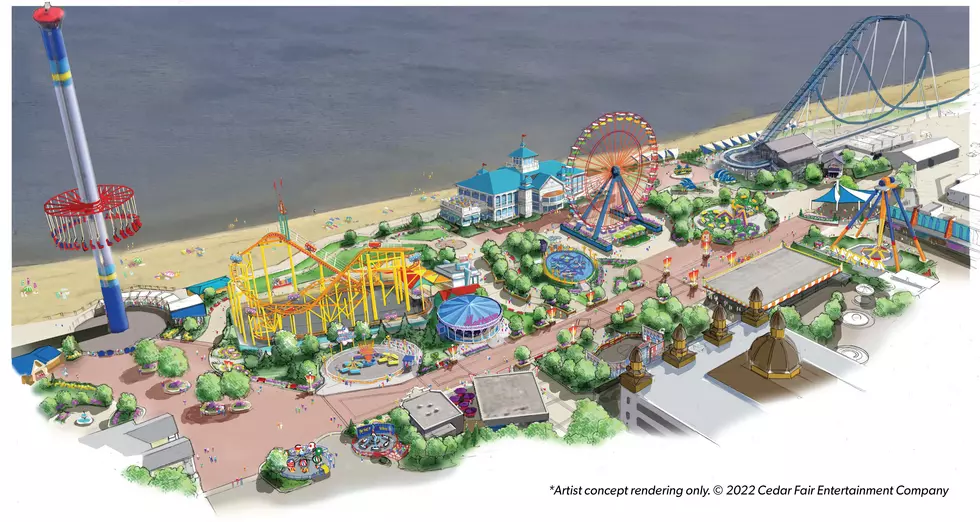 Cedar Point's "The Boardwalk" Opens in 2023 with New Coaster
Courtesy of Cedar Point
Cedar Point has new reasons for you to plan a trip in 2023.
Cedar Point, America's Roller Coast, has announced the addition of The Boardwalk, which will be opening in 2023. This new area inside the park will be set up to feel like a modern-day take on the experience of yesteryear.
Within The Boardwalk at Cedar Point, visitors will get to enjoy new ride experiences, which will include a new roller coaster called the Wild Mouse. The new area will also have roaming entertainment and feature some new dining options with Cedar Point's Grand Pavilion.
When it comes to the new roller coaster, Wild Mouse will be a great ride for the whole family. This new coaster will have six mouse-themed cars and one cheese-themed car and each car will seat four guests. To start the ride, each car will climb 52 feet in the air and begin the journey of one minute and 10 seconds down 1,312 feet of orange track. The cars themselves will actually spin as well which will make each ride different than the next.
The new Grand Pavilion will be a newer and more modern version of the original Grand Pavilion that opened in 1888. The new structure will be a bi-level building and feature food choices that can't be found anywhere else in the park, along with some of the traditional favorites. The Grand Pavilion will also feature a waterfront bar, indoor and outdoor seating, and viewing decks that offer great views of Cedar Point and the Lake Erie shoreline.
The Boardwalk area will also feature rides like Matterhorn, Scrambler, The Tiki Twirl, and more. Other rides in and/or near The Boardwalk area include the new Wild Mouse, Giant Wheel, Troika, Dodgem, GateKeeper, and WindSeeker.
Source: Cedar Point
9 Gone But Not Forgotten Cedar Point Rides You May Remember
Cedar Point has been around for over 150 years and has seen some great coasters. Many rides have come and gone. Check out nine classics here.
Check Out All 17 Roller Coasters at Cedar Point
Cedar Point has 17 roller coasters in the park the whole family can enjoy. From fast to friendly, how many have you been on?
All Seven Coasters to Ride at Michigan's Adventure This Summer
Michigan's Adventure is home to seven roller coasters, including the fourth-longest wooden roller coaster in the world, Shivering Timbers. Check them all out here.